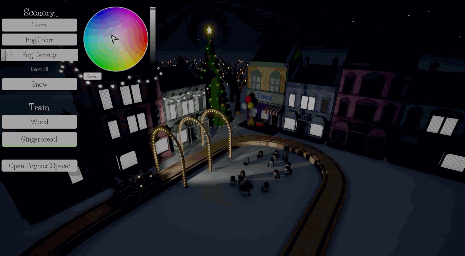 Hello Everyone.

Tracks' delightfully festive Winter Update is here! Queue the fireworks!
Some of you may realize that the silhouette of the train is a little different. Good eye! This new train is part of our largest and first seasonal update to Tracks - The Train Set Game. We've also got a new environment, new objects, some lighting & fog customization, and some bug fixes.

You can check out a new trailer for the Winter update right here!
A detailed change log will be at the bottom of this announcement. But let's go through the major additions and changes one by one.

The Gingerbread Train
The Gingerbread train is a new festive model variant. It will behave very similar to the wooden train in terms of speed and weight, but will be at least 300 percent more delicious. Candy Canes, icing and santa hat come as standard.

To equip the new model, press G while in edit mode and you'll be able to switch between the wooden train and the gingerbread train with just a single click.

This is early progress on train selection and customization. In the future we hope to expand upon this.
New Environment
Some of you may remember this environment from the Itch.io days. And yes, before you ask, those delicious pancakes are back! We are still looking at adding new environments and if you have any interesting level ideas do let us know in the comments. 
New Objects
16 new objects have been added, while a couple may be seasonal. A large number of them can be used at any time. We will likely handle any seasonal content in a similar fashion to avoid items going out of date. And of course, any seasonal items are here to stay. So if you want to use the Christmas tree in March, go ahead!

An important note, the objects menu has been remapped to the Space bar while in edit mode.

Track Supports (Still in testing)
There were some very creative members of the forum exploiting parts of the editor to create some really interesting tracks. Ping_fan2005 shared a screenshot recently which is an awesome example of building things we never realized. Here is their lovely screenshot:
The track supports are an awesome idea and discussed by several members in the forums. In today's update we've included a first test of the track supports. They might still be a little buggy, but we recreated the track (as best as we can!) and showed off what Ping_fan2005's track would look like with the new track supports:
Scenery Controls
Those of you who want to customize the very lighting of your track can access the new Scenery controls menu. Open it up by pressing G and you'll be able to manipulate a few settings including fog color and density, weather effects and controls for the overall color tone if you prefer a lighting set up that's different from the standard set up.
Although Halloween was a little while ago, the new scenery controls can really help set the mood! Here's the image before adjusting the fog and color tones:

And this is after!

We're looking forward to seeing new screenshots from the community using the scenery controls!

Snow!
Once again, accessed via the Scenery controls menu is the option to have snow fall. It looks great when used with your own track designs:

Cargo Carriages
Also included in today's update is access to the Cargo carriage from the toy box. These carriages behave in a similar way to the Passenger carriages but are used with Collect and Deposit towers. Once hooked onto the back of your train, just drive slowly though each tower and they should activate. The required speed is marked on your speedometer and can also be checked with the Speed Check object.
You can now attach Cargo Carriages to the back of your train. These behave in a similar way as the Passenger carriages but are used with the Collect and Deposit towers. Just slowly drive through each tower and they should activate (required speed is marked on your speedometer, and can also be checked with the Speed Check).
The Jingle Bells Map
The last bit of content included in this update is a special new music track which plays the Jingle Bells song via the games music notes. You will be able to find the Jingle Bells map in the save data. If you do create any awesome music pieces using the games notes system, do share it with us. we'd love to hear what you create!
SoundTracks: The Train Set Game!
Our final bit of news is that the soundtrack for Tracks is now available to purchase on Steam with a launch discount of 10%. These tracks were composed by Kevin Gallagher and we've been very happy with the quality and calming piano pieces. If you want to purchase the soundtrack, visit
this link
.
We may be adding more music to the soundtrack as the game evolves.
Wrapping it up
So there we have it, our first Winter update for Tracks. We hope that you enjoy the new update and we can not wait to see what you create.
Of course, do keep in mind that there may be some issues or bugs, but do let us know in the Steam forums if you come across anything that needs to be addressed.
At the start of next year we will begin to make some more plans for the development of Tracks and will share more news. But from all of us at Whoop Group and Excalibur, Happy holidays! See you in the new year!
Tags:

Designer, Developer, Development, Early Access, Humour, Out Now, screenshots, simulator, Steam, store news, trailer, update