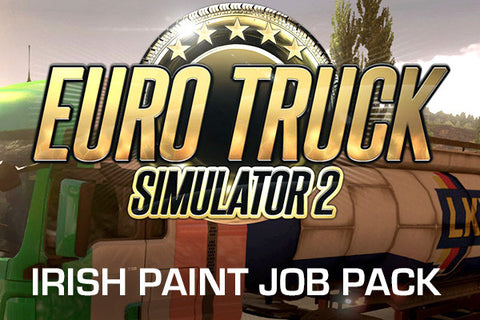 Euro Truck Simulator 2 Irish Paint Job Pack
DOWNLOADABLE CONTENT

 REQUIRES EURO TRUCK SIMULATOR 2 AND AN ACTIVE STEAM ACCOUNT


From Excalibur's range of Truck Simulator 2 add ons, customize your truck with these new Irish paint jobs. Adorn your truck with the Flying Irish flag or the unique Irish Harp livery.  
Flying Irish Flag 
Irish Flag Metallic 
Irish Flag Decal 
Irish Harp


Why do I need a Steam account?
This paint job pack is available only through the Steam client
How do I download this Paint Job Pack?
After Purchasing one of our Paint Job Packs, you will be sent a Steam product code.
To use this code please follow the instructions below:
Launch the Steam client software and log into your Steam account.
Click the Games Menu.
Choose Activate a Product on Steam
Follow the onscreen instructions to complete the process.
What if I have an old copy of Euro Truck Simulator 2 which isn't activated on steam.
Have no fear, you can activate your retail copy of ETS2 on steam using the activation code included in your boxed product.. Please follow the instructions above to use this code on steam,
After using this code, your ETS2 will now be in your steam library ready to use.