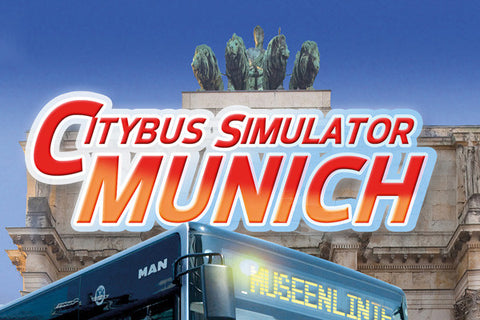 City Bus Simulator - Munich
The modern successor to the bestseller Citybus Simulator 2010 – New York, City Bus Simulator - Munich includes the complete line 100 also known as "the Museenlinie". Starting in front of the Hauptbahnhof (central station), there are 22 museums and sights right next to the street along the way to the final destination Münchner Ostbahnhof (Munich East).
The faithfully represented course of the road has been recreated with an unbelievable, visual attention to detail. For the first time, the bus technology follows a real-world training simulator, so the handling gets as close to reality as it has never been before.
All operational elements of the driver's workplace are fully functional. The original Munich co-pilot (electronic assistant) supports the bus driver at his daily work and controls. If desired, all passenger information, for example the passenger monitor, the destination display, the announcements will be handled by the assistant.

The OCC User Interface allows central access to the whole game at any time. Bus defects and malfunctions on the bus can be simulated in various ways.

Features of City Bus Simulator Munich: 

Highly detailed original MAN Lion´s City Bus with numerous operable elements in three model variants 
Newly developed vehicle management resulting in a never before seen level of reality 
Optional or automated malfunction device to simulate breakdowns and malfunctions 
Tuning options for the engine and fine tuning for the propulsion system 
Interactive Traffic Director 
Realistic simulation of the line 100 = Museum Line 
More than 43 original sightseeing spots throughout the city 
Munich copilot 
OCC (Operations Control Center) 
Interactive radio communication with the dispatch center 
Original announcements 
Bonus: test ground scenery 
System Requirements
| | |
| --- | --- |
| Operating System | Windows Vista / 7 / 8 |
| Processor | Intel 2.8 Ghz or greater |
| Memory | 4 GB system memory |
| Graphics | Dedicated graphics card with 512 MB memory |
| Hard Drive | 5 GB available space |
| Please Note | Internet connection required for activation |