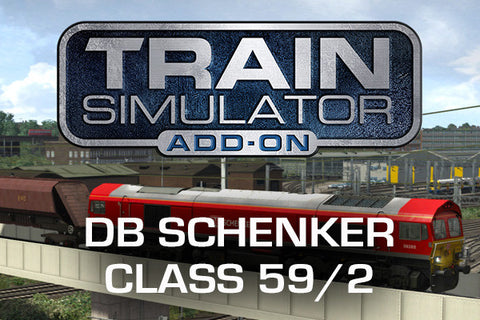 DB Schenker Class 59/2 Loco Add-On
REQUIRES  TRAIN SIMULATOR  + ACTIVE STEAM ACCOUNT
The first of the heavy freight generation of locomotives and pivotal in bringing the most successful freight locomotive in the UK to life, the BR Class 59 comes to Train Simulator in modern DB Schenker livery.

The original four Class 59s were ordered by Foster Yeoman in 1985 as a replacement to the increasingly unreliable Class 56. For the design of the Class 59, Foster Yeoman engaged General Motors Electro-Motive Division, one of the leading builders of locomotives. Derived from the EMD SD40-2 with a Class 58 style cab, the Class 59 was designed to haul heavy loads such as stone or coal across the UK, with a 3,300 horsepower engine.

Following Foster Yeoman's order, further Class 59/1 variants were ordered by Amey Roadstone Construction, and Class 59/2 variants were ordered by National Power, initially as a trial, and then as an ongoing order to haul coal and limestone hoppers.

Built between 1994 and 1995, the Class 59/2s had different features compared to earlier variants of the class, including a new advanced slow speed control for accurate merry-go-round power station coal trains, more modern batteries and fire safety systems and also yaw dampers to increase the top speed from the original 60mph (96km/h) to 75mph (120km/h).

Ultimately, EMD's diligence and flexibility in designing and constructing such a small order of 15 locomotives opened the way for the later, much larger, Class 66, which were built on the same body shell but internally different

In April 1998, National Power rail operations were taken over by English, Welsh & Scottish Railway, who proceeded to use Class 59/2s more widely over the network. Class 59/2s are today operated by DB Schenker and maintained by Mendip Rail at Merehead.

The BR Class 59/2 for Train Simulator is available in DB Schenker livery as it operates for the private logistics company on the UK's rail network today. Also included are JHA 102t bogie aggregate hopper wagons.

The locomotive is also Quick Drive compatible, giving you the freedom to drive the DB Schenker Class 59/2 on any Quick Drive enabled route for Train Simulator, such as those available through Steam. Also included are scenarios specifically for the North London Line route (available separately and required to play these scenarios).
Scenarios:
Three scenarios for the North London Line route:
Operation Backyard 
Acton Upon It 
Caught Up in the Action


Key Features:
BR Class 59/2 in DB Schenker livery 
Accurate PBL 90 brakes 
Automatic wheelslip protection 
Slow speed control 
Multiple headlight variations including flashing hazard lighting 
JHA 102t bogie aggregate hopper wagons 
Quick Drive compatible 
Scenarios for the North London Line route 
Download size: 111mb
System Requirements

Operating System
Windows® XP / Vista / 7 / 8

 

Processor

2.8 GHz Core 2 Duo (3.2 GHz Core 2 Duo recommended),

AMD Athlon MP (multiprocessor variant or comparable processors) 

Memory
2 GB RAM
Graphics
512 MB with Pixel Shader 3.0 (AGP PCIe only)
DirectX
Version 9.0c

Network

Broadband Internet Connection + Free Steam account

If you are not familiar with Steam you can check it out here http://store.steampowered.com/about/

Hard Drive
6 GB available Space
Sound Card
Direct X 9.0c compatible
Additional
Quicktime Player is required for playing the videos